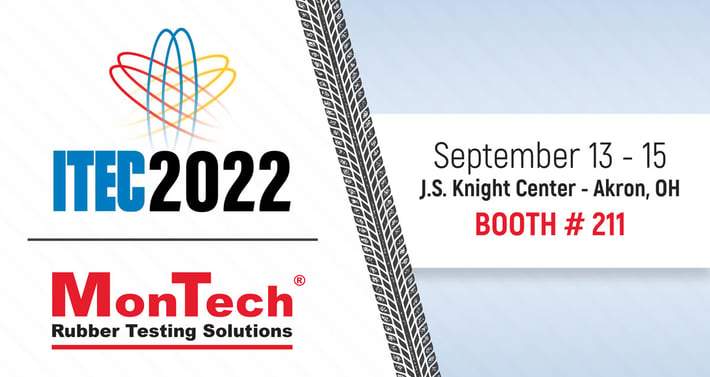 Columbia City, IN – MonTech USA to attend ITEC 2022 conference from September 13 - 15 in Akron, OH.
MonTech, the fastest growing manufacturer of rubber and polymer testing instruments, will be attending the International Tire Exhibition & Conference in Akron, OH. From September 13-15, MonTech and their team can be found in booth 211, where they will be discussing the latest trends and advancements in rubber testing technologies, as it relates to tire manufacturing. The team will provide demonstrations of instruments including RPAs, Hardness Testing, Density Testing, Mooney Viscometers, and more. MonTech will also be previewing exciting new developments including the Advanced Applications Package module for Rubber Process Analyzers, as well as other upcoming instrument releases.
MonTech is quickly becoming the tire industry's first choice for rubber testing instrumentation. MonTech equipment, including MDRs, RPAs, MVs, and any one of their 75+ instrument selection can be found in tire quality control or research laboratories across the globe. MonTech will also be showing video previews of their Online Testing Cell, the most advanced system available for automating quality control testing of rubber materials.
Other instruments in the MonTech Product Portfolio include: MDRs, Lab Presses, Sample Preparation Instruments, Rubber Bale Cutters, Abrasion Testers, Aging Ovens, Rebound Testers, Fatigue Testers, and more!
For more information, please contact us at 800-552-5115 or info@montechusa.com